Synopsis: The peaceful realm of Azeroth stands on the brink of war as its civilization faces a fearsome race of invaders: orc warriors fleeing their dying home to colonize another. As a portal opens to connect the two worlds, one army faces destruction and the other faces extinction. From opposing sides, two heroes are set on a collision course that will decide the fate of their family, their people, and their home.
Release Date: June 10, 2016     MPAA Rating: PG-13
Genre(s): Action, Adventure
Film Review

Let's get this out of the way: the average moviegoer is going to have a hard time liking Warcraft. Its orc vs. human setup is the stuff that only works for those who buy into high fantasy, and the way it handles the material, servicing the fans first and foremost, will further distance casual audiences. This is the type of movie where main characters are pure CGI, they have names that are nearly impossible to pronounce, and they wield magic with no internal sense of logic. But even those who can get past the material or are tried and true fans of the video game franchise will likely have problems with Warcraft. Because even though it's clearly a film built for a massive fan base, Warcraft still struggles to be compelling or unique.
That being said, great props are due director Duncan Jones for his willingness to adapt the Warcraft property in full. His choice to frame the battle from the perspectives of both the humans and the orcs is easily the most creative aspect of the film. It helps humanize the orcs through Durotan (Toby Kebell), but also smartly pays homage to the video games, which never suggest that one side is truly good or bad.
Unfortunately, the story wrapped around the general conceit is fairly generic fantasy fodder. The "bad" guys start to question whether they are actually doing good, and some of the "good" guys actually turn out to be bad. There's even a human-orc love story thrown in for good measure, but it features a more human-looking orc than any of the others.
The film is riddled with other little touches like that which suggest a careful studio head was making sure the film didn't veer too far off the blockbuster path. To be fair, the film does pack lots of spectacle – its sense of place and world building are very strong, and the CGI orcs look incredible on the screen. The problem is that the film starts to build towards something interesting and unique, and then it ends. It almost feels like this film should have been trimmed down to serve as the first half of a much better movie.
What Warcraft does have going for it, though, is top-notch visuals. For a film set in a fantasy world, Warcraft needed to nail the effects and in that respect it succeeds. The mo-cap work on the orcs is exceptional, bringing to life these massive fantastical creatures in stunning detail. If only for the visuals, Warcraft fans will be well pleased with the end result – finding delightful little touches sprinkled throughout the world.
The finished product is a perfectly satisfactory adaptation, but one that won't set the world on fire or convince casual viewers of why this video game franchise is so popular. Instead, a fairly generic storyline built around dense mythology will leave most either confused or disinterested. The spectacle is fun to take in, but that's only surface level entertainment. When the swords and axes aren't clashing there isn't much to keep you occupied in Warcraft outside of a morbid curiosity to see if it eventually all makes sense. For the fans it will, but others will likely walk away from Warcraft thinking it just as impenetrable as the video game franchise it adapts.

Those looking for the type of high fantasy battles befit a blockbuster will find that Warcraft fits the bill nicely. CG orcs versus live-action humans is not going to be an easy sell, but the film does well enough to make it feel as real as possible. But without any real stakes or characters that you care about, it's hard to become invested in the action. Warcraft offers the type of sights that make you go, "Wow, that's pretty cool," but it will never have you on the edge of your seat. Again, it does well to bring the battle between orc and human come to life, but that is only going to get the film so far. Excitement is few and far between, and that's where the Warcraft experiment falls flat.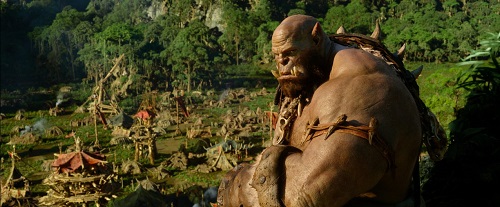 Cast and Crew
Director(s): Duncan Jones
Producer(s): Stuart FeneganAlex GartnerJon JashniCharles RovenThomas Tull
Screenwriter(s): Duncan JonesCharles LeavittChris Metzen
Story: 
Cast: Travis Fimmel (Anduin Lothar)Paula Patton (Garona)Ben Foster (Medivh) Dominic Cooper (Llane Wrynn)Toby Kebbell (Durotan/Antonidas)Ben Schnetzer (Khadgar)Robert Kazinsky (Orgrim)Clancy Brown (Blackhand)Daniel Wu (Gul'dan)Ruth Negga (Lady Taria)Anna Galvin (Draka)Callum Keith Rennie (Moroes)
Editor(s): Paul Hirsch
Cinematographer: Simon Duggan
Production Designer(s):
Costume Designer: Mayes C. Rubeo
Casting Director(s): Sandra-Ken FreemanLindsay GrahamMary Vernieu
Music Score: Ramin Djawadi
Music Performed By: 
Country Of Origin: USAChina