Synopsis: A prequel set before the haunting of the Lambert family that reveals how gifted psychic Elise Rainier reluctantly agrees to use her ability to contact the dead in order to help a teenage girl who has been targeted by a dangerous supernatural entity.
Release Date: June 5, 2015     MPAA Rating: PG-13
Genre(s): Horror,
Film Review

Once a horror franchise is established, it's only a matter of time before one of the sequels is actually a prequel. So, it's no surprise that, after the success of Insidious and its sequel, Insidious: Chapter 2, Insidious: Chapter 3 would give the viewer some historical backstory.
After a title card explaining that the movie takes place a few years before the events of the other two movies, Insidious: Chapter 3 begins with a teenage girl named Quinn Brenner (Stefanie Scott from Wreck-It Ralph) visiting psychic medium Elise Rainier (again played by Lin Shaye from Ouija and The Signal) in an effort to contact her dead mother. Elise agrees to help the girl, but stops when she realizes that the spirit that has been communicating with Quinn is not her mother. Even though the séance ends, the spirit follows Quinn home, causing her grief, bad luck, and bodily injury. Finally, Quinn's father, Sean (The Grey's Dermot Mulroney) reaches out to Elise for help ridding his daughter of the entity. Meanwhile, Quinn's brother, Alex (Tate Berney from "All My Children") enlists the help of a couple of internet parapsychologists, Tucker and Specs (roles reprised from the first Insidious by Angus Sampson of Mad Max: Fury Road and Leigh Whannell from Saw, who also writes and directs), to bust the ghost. After the initial investigation, the group discovers that they are dealing with something more powerful than they had imagined, and it will take all of them working together to save Quinn from the evil presence.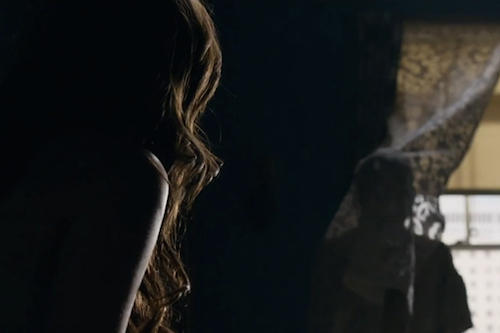 Since series creator James Wan was busy with Furious Seven, he passed the directorial torch for Insidious: Chapter 3 to his partner in crime/writing buddy Leigh Whannell. The film marks his directorial debut, and what a debut it is. Because of the continuity and overall stylistic similarities to the other movies, it's obvious that Insidious: Chapter 3 was made by an insider to the franchise. Basically, what Whannell does is give the people what they want: an Insidious movie. It's full of the darkness and dread that audiences have come to expect, and there are plenty of familiar faces, but the new characters give the story a fresh feeling as well. After the setup, the plotline starts to follow the same formula as the first Insidious movie, but that's basically what Elise does: help people save their family members from evil spirits and demons. As far as possession/exorcism movies go, there are way worse ones out there than Insidious: Chapter 3.
Insidious: Chapter 3 works on many levels. It serves to answer questions in the mind of hardcore Insidious franchise fans, showing the origin of The Further and exposing how Elise, Tucker, and Specs came to work together. For the uninitiated viewer, it's full of suspense and scares that don't rely too heavily on knowledge of the prior movies; there are some little in-jokes and references that may be missed, but the movie stands quite well on its own two feet. Finally, hardcore horror fans will be able to spot cool little Easter eggs, some as obvious as The Further's resemblance to the dream worlds of the A Nightmare on Elm Street movies (particularly that of the third, Dream Warriors), others a bit more subtle, like the Overlook-style carpeting from The Shining on the floors of the apartment building in which the Brenners live. There's something cool for everyone in Insidious: Chapter 3, not just for those who have already studied the first two movies.

Like Insidious and Insidious: Chapter 2, the music for Insidious: Chapter 3 was done by Joseph Bishara (who, as James Wan's go-to composer, has also scored The Conjuring and Annabelle). Bishara's score for Insidious: Chapter 3 is more of the same grating, screeching violins and abrasive, thumping percussion that fans have come to expect from his music, but if it isn't broken, don't fix it; the score is incredibly effective, augmenting Leigh Whannell's visual style (which, let's face it, is basically an imitation of James Wan's visual style). Joseph Bishara is at the forefront of the new breed of horror film composers, and his soundtrack to Insidious: Chapter 3 should keep him there. And, to answer the question that is usually asked when Bishara is mentioned as a composer in a film, yes, he does appear onscreen in Insidious: Chapter 3, but to say any more would be a spoiler. Shhhhh!

Insidious: Chapter 3 is scary as hell. Interestingly enough, it's mostly jump scares, but they're not cheap. They're meticulously set up through careful building of suspense and tension – the audience knows that a scare is coming, but doesn't know when. The movie is full of cool camera movement and editing tricks that almost fool the viewer into being frightened, supplying the kind of fun screams that are usually followed by a round of laughter. Add in the fact that, in one scene, Insidious: Chapter 3 mimics the Poltergeist clown attack scene better than the Poltergeist remake did (but without the clown, if that makes any sense), and you've got one terrifying movie. Terrifying and fun.
Cast and Crew
Director(s): Leigh Whannell
Producer(s): Jason BlumOren PeliJames Wan
Screenwriter(s): Leigh Whannell
Story: 
Cast: Dermot MulroneyStefanie ScottAngus Sampson Leigh WhannellLin Shaye
Editor(s): Timothy Alverson
Cinematographer: Brian Pearson
Production Designer(s):
Costume Designer: Ariyela Wald-Cohain
Casting Director(s): Terri Taylor
Music Score: Joseph Bishara
Music Performed By: 
Country Of Origin: USA