Presented as part of the new film series between Film Independent and the Los Angeles County Museum of Art (LACMA), Martha Marcy May Marlene marks the second event in the series. The moderator for the evening was Elvis Mitchell, esteemed film critic and curator at Film Independent; and to the audiences delight quite friendly, engaging and funny with his opening address. After giving a brief synopsis of the film, and throwing in a well-received joke about star Elizabeth Olsen's famous sisters, matters turned to watching the film in LACMA's spacious Bing theatre.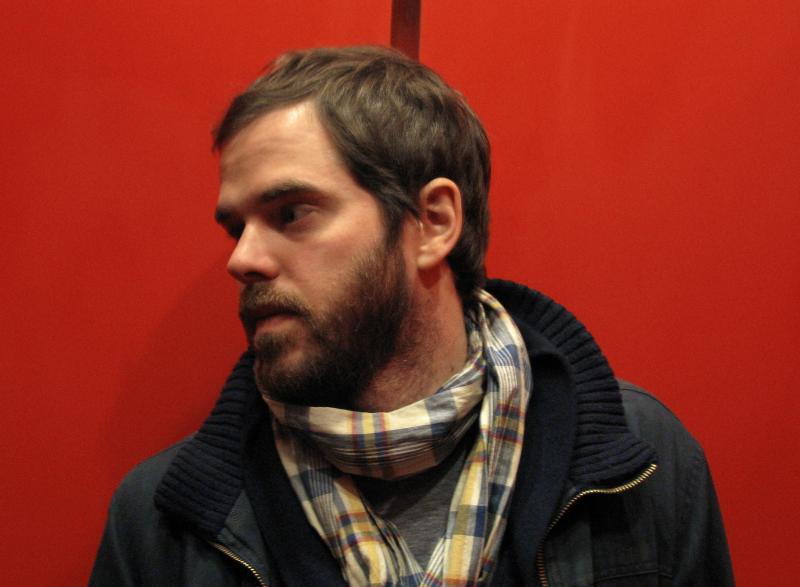 Just under two hours later the crowd erupted in applause over Director/Writer Sean Durkin's Martha Marcy May Marlene and as the credits rolled chairs were set up on stage for a Q&A session with Durkin, as well as the cast, including Elizabeth Olsen (Martha), John Hawkes (Patrick), Sarah Paulson (Lucy), and producer's Josh Mond and Antonio Camps. The Q&A was lively, with Mitchell fully engaging the cast and crew with questions relevant to the storytelling and character development. Q&A's can be, and anyone who has ever covered them or sat through one as a casual viewer will agree, painful. It was with great relief that Elvis Mitchell's moderating, and the filmmakers and casts openness with the audience, made for a time that was far from painful–it was actually quite enjoyable and something I look forward to experiencing again with more films and events in the series. The match made in heaven of Film Independent and LACMA film has proven to be just heavenly.
Now about the film…
Martha Marcy May Marlene, quite possibly one of the most difficult titles to speak out-loud ever given to a film, it is quite the tongue twister. The difficulty of the title corresponds well to the film itself, a complex narrative about a woman who escapes from a cult only to find herself deeply troubled by the events that transpired there over the course of two years. The names Martha, Marcy May, and Marlene act as fragments of her story, each a chapter in the life of this young woman, who began as Martha, only to become Marcy May, and then accept the role of Marlene. Each name holds great importance and via flashbacks the viewer is introduced to the various alterations of the woman's identity, and how suddenly all three of them become interchangeable, and indistinguishable, in her fragile, tormented mind.
The title role of Martha is played by Elizabeth Olsen. In only her second feature film the younger sister of the well-known Olsen twins is astonishing, a true breakthrough performance on her part. Wondering where she has been hiding all this time is an inescapable question to ponder. Self admittedly an awkward person, per the Qamp;A session, Olsen utilizes her own awkwardness, infusing the character of Martha with a very structured and yet off-kilter awkward style born out of her lack of identity. Her large eyes breathe light and awareness, while they also show darkness and fear. A constant permeation of dread surrounds Martha, at every point in the story.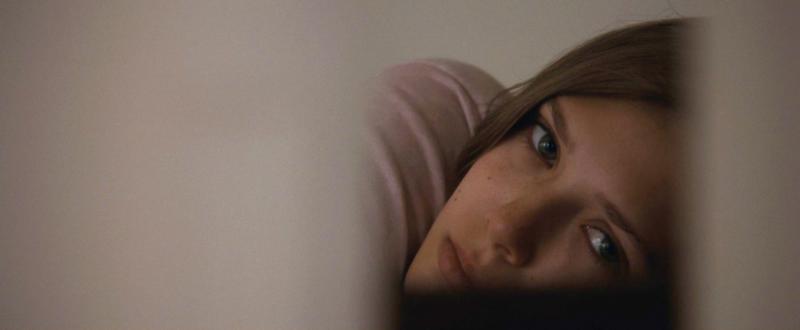 As Olsen commented in the Q&A as well, she is not familiar with how to work camera angles, or use the light, resulting in a great deal of disjointed angles of her face. For a viewer, the consistent bowing of her head only works wonders in showcasing the insecurity of her character; chalk it up to being unsteady in front of the camera, or as a natural actress finding herself in front of the camera, either way it works. It is Martha's unstableness that perpetuates the possibility of her finding guidance at the hands of Cult leader Patrick (John Hawkes). Patrick has an immediate attraction towards Martha when she arrives at the Cult's farmhouse, a place hidden from major society, tucked away in Upstate New York. Sustainable living is what they aim to achieve, or so Martha is led to believe, where money will not be needed once things get up and running. As the flashbacks progress it is soon seen that the need for money by the cult will take Martha into territory that is dangerous, and deadly, due to the unstable nature of the fellow cult members.
Martha Marcy May Marlene interplays between the past and present throughout the film. The beginning finds Martha at the cult farmhouse preparing dinner for the men. They eat at the table while the women wait in another room. Once finished it is the women's turn to eat. Immediately the balance of power of the situation is established, only to become more evident as the film progresses. Martha, now called Marcy May, seems content in her surroundings, accepting praise from leader Patrick (John Hawkes) over the dinner meal.
In the early morning hours of the next day Marcy May grabs her one bag and runs from the house; quickly being followed by a male cult member she escapes into the woods. As the camera follows Marcy May from behind it is reminiscent of a horror movie camera effect. The young girl running through the forest as the attacker trails behind. Marcy May is able to hide from her pursuers and make it to town where she is spotted at a diner. Watts (Brady Corbett) sits down at her booth, asking what she is doing and why she left home. She just wanted some time to herself is her answer, masked behind eyes full of fear. The reason for Marcy May running has yet to be revealed, but by the emotional phone call she makes to her sister moments later, a sister she has not seen or spoken to in two years, you know something dreadful has happened to Marcy May. Afraid for her life she hesitates asking her sister to come and get her, ultimately giving in. When Martha, as she is now with her sister Lucy (Sarah Paulson) and brother-in-law Ted (Hugh Dancy) awakens the next day at her sister's home one of the first things she asks is how far they are from where Lucy picked Martha up. A clear inclination that Martha knows she will be searched for, and the more distance the better.
Director and Screenwriter Sean Durkin continues Martha's story through the use of flashbacks. The flashbacks are brought on by present happenings, like brief memories in a mind trying to make sense of why the person is acting and feeling the way they do today based upon their past. It is an introspective look into the mind of Martha, as she does not share her experiences with Lucy, even as things become more intense, and frightening with Martha's behavior. For example, Martha is having a sleepless night and decides to curl up at the bottom of her sister's bed. Her sister just happens to be having sex with her husband at this exact moment. The shock of finding Martha laying there is shown by Lucy and Ted's cries of anger, and disbelief. As well as Lucy chastising Martha for her actions. Martha merely responds that she does not like to be alone sometimes when she sleeps. In the flashback that accompanies this scene we see just how Martha dealt with her sleepless nights before, and the way in which Patrick accepted payment for his kindness of allowing her to share his bed. The troubled soul of Martha is slowly broken down using this technique, and it gives a shallow view inside her predicament. It also demonstrates how the three characters of Martha, Marcy May, and Marlene cannot be erased from her current self. She shows signs of each character at any given moment in the present day, a startling depiction of mental illness.
Led by the remarkable John Hawkes as Patrick, an actor Elvis Mitchell remarked in the Q&A session as having played the three worst fathers on screen of late with Martha Marcy May Marlene, Winter's Bone and Me and You and Everyone We Know, Martha Marcy May Marlene is a psychological horror story. She is abused mentally and physically, the methods being shown without restraint. Hawkes' Patrick is a well-trained manipulator, drawing on her insecurities early in order to draw her in deeper to his twisted world. One key scene, that we later find out from Hawkes and Olsen themselves was improvised, has Patrick remarking on her absentee father and family. Hawkes recites the lines with coolness dripping with forethought–he knows exactly what he is doing and the reaction on Olsen's Marcy May's face has such an emotional magnitude it is suffocating for a moment. To find out this scene was partially unscripted, a mere inclusion by Hawkes to bring about a reaction in Olsen, is remarkable. The talents of both actors go unquestioned after this moment, they are fantastic.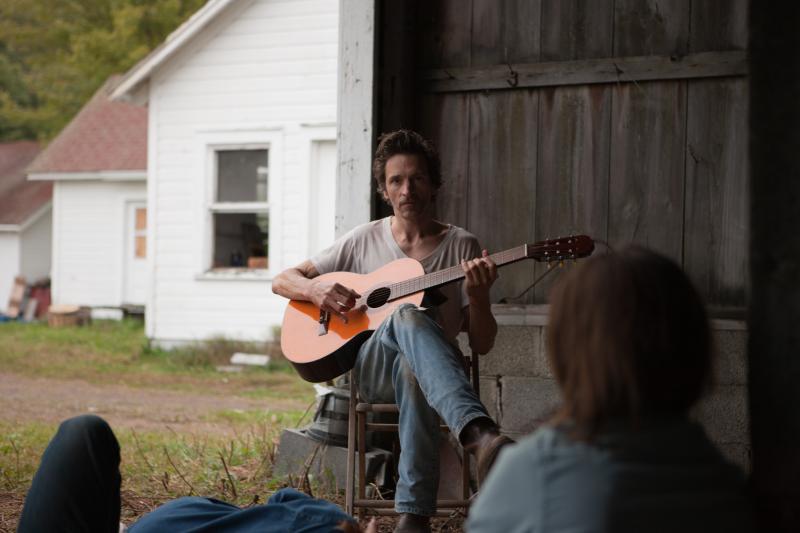 Later Patrick recites a song, called "Marcy's song" fittingly, that oozes with sentiment and adoration; in the hands of Hawkes' Patrick it is no more than a manipulative tool against Marcy May (a name he picked for her, nonetheless) and it speaks volumes as to what will become of her situation. [see below for his performance of the song] The storytelling device of dread, acutely aware to the viewer and critic, is answered by Director Durkin during the Q&A: His mother used to scare him with stories as a child, ghost stories, and he watched a great deal of the "Unsolved Mysteries" show. His tastes veered towards dread, and a viewing of The Shining at the age of twelve changed his atmosphere, especially with the use of silence as a mechanism for the terrifying.
Martha Marcy May Marlene is a movie surrounded in silence. There is little known as to how Martha found herself at the cult. Even less about her past, except what is slowly revealed through her sister Lucy. There is no need for great exposition in Martha Marcy May Marlene, the key scenes and emotional performances explain much more than words ever could. There are no over-explanations, and no big reveal at the end. The ending is awash with mystery over exactly what is real and what is not. Martha has suffered an emotional break on a variety of levels from the beginning of her time with Lucy in the present, as well as during each flashback with the cult. The acceptance of her role as Marlene partly the most shocking. Martha never becomes Marlene, in terms of being called Marlene by anyone. Marlene is any woman in the cult, she is the one who brings in new women, and partakes in their cleansing ritual–one of the most disturbing parts of the film is watching Marcy May usher in a new girl fully knowing what will happen to her over the course of the night. Marlene stands for the complete removal of your old self to embrace the new self with your new cult family. She is frightening, and disruptive, and while Martha may find herself in the safety of her sister she can never fully let go of Marlene, or Marcy May, which results in the final image of the film. An image that will haunt you more than any outright horror movie; it may even give you nightmares.
Director/Screenwriter Sean Durkin assembled a cast for his phenomenal screenplay and in such creates a haunting depiction of the loss of identity. Martha will never be Martha again, her sister will never understand just what happened to her and the admonishing ways she deals with Martha cut deeply as you watch the film unfold. The surprising flashbacks into Marcy May's world are edited seamlessly with the present happenings, but nothing complete is ever revealed to the audience. You fear for Martha, and become angered when you know she is perpetuating further trouble after you thought she had broken free of the cult's restraints. Martha Marcy May Marlene hangs heavy on the psyche. It is never clear whether you should root for Martha to overcome her demons because you do not know if she actually wants to given her movement between Martha, Marcy May, and Marlene. She may simply be a girl who had enough of one life, chose another, and is now ready to find something new again. Without a strong backstory you are left to ponder the motivations of Martha, only to realize Martha Marcy May Marlene is not going to provide answers–and it should not have to anyways. This is a film ripe for analysis and discussion, and there could not have been a better choice for a Q&A session afterwards to allow discussion on the complexity that is Martha Marcy May Marlene.
To see highlights from the Q&A with the Director and Cast, moderated by Elvis Mitchell, please see below. You may also visit the Film Independent website for more highlights as well as to view upcoming screenings in the LACMA/Film Independent Film Series.
Film Independent at LACMA: Martha Marcy May Marlene from Film Independent on Vimeo.
The original recording of the song: Marcy's Song – Jackson C. Frank
The complete soundtrack for the film: Martha Marcy May Marlene (Original Motion Picture Soundtrack) – Daniel Bensi & Saunder Jurriaans
John Hawkes performing "Marcy's Song":