David Cronenberg successfully transitioned from low-budget sci-fi horror to "legitimate" filmmaking with A History of Violence in 2005. Although Cronenberg is now known as a big Hollywood moviemaker with reputable films like Eastern Promises and A Dangerous Method on his resume, horror fans will always remember the man for his early films, slimy science fiction body-horror movies like The Brood and Scanners. The last really weird movie he made, in 1999, was eXistenZ.
EXistenZ takes place in a world where people play virtual reality video games by plugging an organic interface called a "pod" into a port at the base of their spine, thus giving the game complete control over their brain and nervous system. Jennifer Jason Leigh (Fast Times at Ridgemont High) stars as Allegra Geller, a legendary and respected game developer who is giving a demonstration of her newest game, eXistenZ (capital X, capital Z). Before the demo can even get rolling, Allegra is attacked by a would-be assassin and shot in the shoulder. With the help of a marketing rep from her company named Ted Pikul (Black Sea's Jude Law), Allegra escapes the attempt on her life, leaves the building fearing that her game's coding may be corrupted. The only way to check the game is to play it with someone whom she trusts, and the only person she trusts at that particular moment is Ted. Allegra and Ted go into the game, but quickly find out that the conspiracy against Allegra and her game goes much deeper than either of them had realized.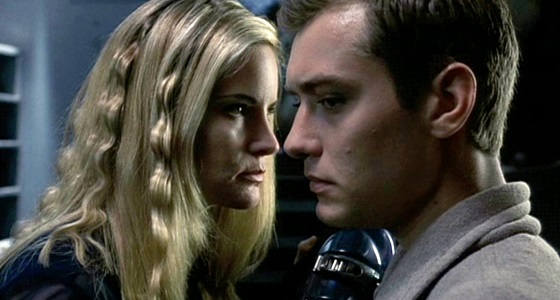 For David Cronenberg, eXistenZ represents a return to his earlier form. For the first time since Videodrome, which was made fifteen years before, Cronenberg wrote the screenplay for eXistenZ from an original idea rather than simply adapting a pre-existing work from another writer. Because of this, the film has a decidedly throwback style, feeling much like one of his more visceral earlier films. Because he's David Cronenberg, there is no shortage of star-caliber talent performing in front of the camera; in addition to Jennifer Jason Leigh and Jude Law, eXistenZ features performances from Willem Dafoe (Platoon), Ian Holm (Alien), and Sarah Polley (Dawn of the Dead). Cronenberg is one of a small handful of directors who could assemble such a quality cast for what is essentially a sci-fi/horror B-Movie.
Like many of Cronenberg's films, eXistenZ deals with man's interaction with technology. Cronenberg has a way of dealing with soon-to-be outdated technologies in a way that keeps his films from seeming outdated themselves, resulting in timeless classics despite the presence of artifacts like VHS tapes and mouse-less computers. EXistenZ accomplishes this by completely fictionalizing the game's technology. The effect is enhanced by the film's constant blurring of the lines between the game and reality; Allegra and Ted are constantly guessing whether or not they are in the game, and the audience is left to wonder with them. There are tell-tale signs, such as characters stuck in loops while waiting for interaction or the presence of mythical creatures that don't exist in the real world, but for the most part, it's a mystery. Part of the fun of eXistenZ is separating the characters' facts from fiction.
Cronenberg has a group of below-the-line technicians and artists with whom he consistently likes to work. One of his regular contributors is cinematographer Peter Suschitzky who, to this day, still shoots Cronenberg's films, as well as having done classics like The Rocky Horror Picture Show and Krull. Suschitzky is a big part of why eXistenZ looks like a David Cronenberg movie; he knows what Cronenberg wants and knows how to achieve it. The look of the film is very flat and dreary, with pockets of controlled light leading to dark pools of shadows in an almost film noir way. Despite the intricate lighting, the film still has much of the same sterility of Cronenberg's earlier films. Photographically, eXistenZ is the perfect storm of old and new Cronenberg.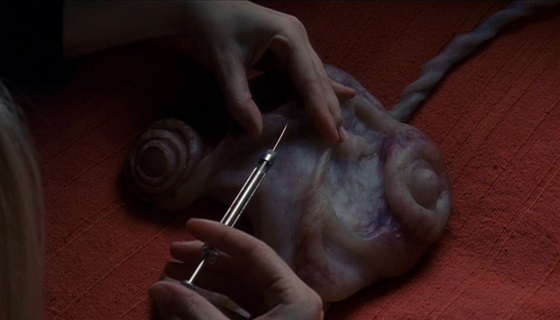 Because Cronenberg considered eXistenZ a callback to his early sci-fi films, there are some unique and creative special effects that are reminiscent of his gory days. The visual effects team was headed up by Jim Isaac (who also worked with Cronenberg on The Fly and Naked Lunch) and, in vintage Cronenberg fashion, the effects are mostly practical. The game pods are characters in and of themselves, made of latex and controlled by puppetry and animatronics so that they almost seem to breathe while being played. Also made from latex, the ports in the player's backs provide some cool moments, pulsating and spitting as they connect and disconnect from the pods. The weapon with which the assassin tries to kill Allegra is a fun little piece, too; it's a prop gun that looks like it was made from organic materials like skin and bone, and which fires teeth for bullets. Because it is a transitional film for Cronenberg, eXistenZ does contain some computer generated effects, a first for the director; a cute little two-headed reptile creature with which Allegra plays is the result of 3D computer animation. Like the cinematography, the visual effects in eXistenZ are a neat tie-together of the old and new Cronenberg styles.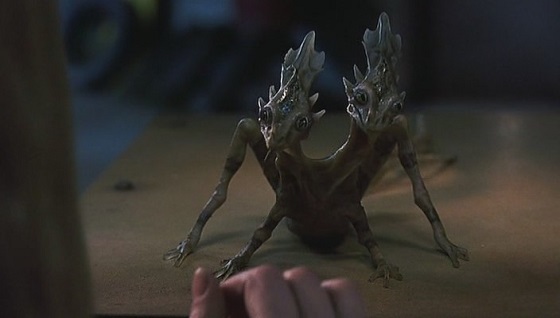 David Cronenberg has turned into one of the most important filmmakers of his generation. While he may have graduated to making movies for the big guys, his fans will still remember him as the guy who directed The Fly, The Dead Zone…and eXistenZ.