Synopsis: Two mysterious women seek refuge in a run-down coastal resort. Clara meets lonely Noel, who provides shelter in his deserted guesthouse, Byzantium. Schoolgirl Eleanor befriends Frank and tells him their lethal secret. They were born 200 years ago and survive on human blood. As knowledge of their secret spreads, their past catches up on them with deathly consequence.
Release Date: June 28, 2013     MPAA Rating: PG-13
Genre(s): Horror, Fantasy
Film Review

Byzantium is the story of a 200-year-old vampire named Eleanor (Hanna's Saoirse Ronan) who passes time by writing her life story out in longhand, only to tear the pages out and throw them out into the wind for the birds to eat. When Eleanor's vampire mother, Clara (Gemma Arterton from Hansel & Gretel: Witch Hunters), murders a man in a fit of passion, the pair is forced to hide from the world, taking refuge in a sleepy beach town. Clara meets a lonely man named Noel (The Bank Job's Daniel Mays) who, after being seduced, lets her and Eleanor stay in a hotel that he owns called the Byzantium. Clara finds a few desperate girls and turns the hotel into a brothel to generate some money, while Eleanor explores the town and meets a young man of her own: the shy and reserved schoolboy Frank (Caleb Landry Jones from The Last Exorcism). Eleanor likes Frank and decides to let him read her life story instead of tossing it away, but trouble brews when he shows it to his teachers at school. Although the townspeople don't take the vampire tale seriously, the story draws the wrong kind of attention to Eleanor and Clara. Soon enough, their long and troubled past begins to catch up with them.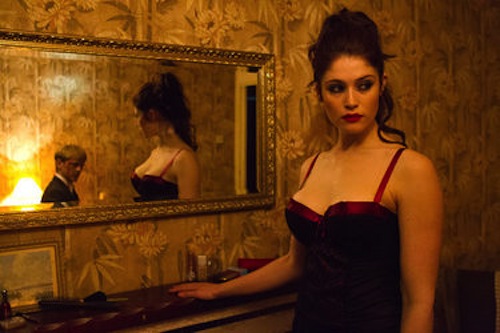 Director Neil Jordan (The Crying Game) is no stranger to vampire movies. In 1994, he turned Anne Rice's famous novel and subsequent screenplay into Interview with the Vampire. With Byzantium, he does more of the same; playwright Moira Buffini (Jane Eyre) adapts her own play "A Vampire Story" into the screenplay, giving Jordan an author-approved starting point for the film. Unfortunately, the pacing of Byzantium does not translate very well from stage to screen.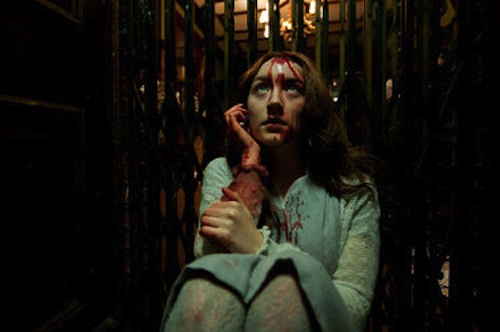 The first half of Byzantium is a mess. The narrative is a fairly slow-moving and drudging affair, relying heavily on dialogue and voiceover exposition instead of action and visuals. The timeline jumps around as the vampires' story is told, and the women's agelessness makes it difficult for the viewer to keep up. The inclusion of several minor characters who may-or-may-not show up later only serves to confuse the audience more. Things pick up a bit when Byzantium hits its third act; pieces start to fall into place, stuff starts to happen and the viewer starts getting engaged in the story. Unfortunately, it's over as soon as it gets good, and the ending just leaves the audience wanting more…but not in the good way.
To its credit, Byzantium is a breath of fresh air in the vampire genre, if only because it simultaneously debunks certain aspects of vampire mythology while reinforcing others. There are no silver crosses or wooden stakes. Eleanor and Clara freely roam about in the daylight and do not sleep in coffins. They don't even have fangs, instead preferring to use their thumbnails to slice open the veins of their victims. Despite this, the girls are still vampires; they survive on human blood, are immortal, and still must be invited in before they can enter a dwelling. The differences and similarities try to modernize the stale vampire legend, and the little changes keep Byzantium interesting enough to not completely lose its audience.

Shot by cinematographer Sean Bobbitt (Shame, Hysteria), Byzantium looks great. The style of the photography is similar to that of another new-school vampire film, Let the Right One In. The external scenes are practically washed out with light, standing in sharp contrast to the internal sequences that are riddled with shadows and darkness. The film manages to be bright and dark at the same time, signifying the fact that this is not a campy, noir-like midnight-movie type of vampire film.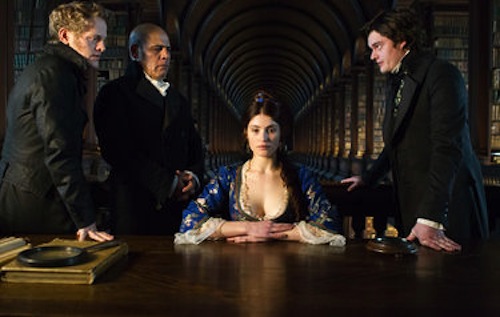 The most memorable of all of the shots in the film is the repeated showing of a huge waterfall that is located at the place where the humans become vampires. In an impressive bit of photography, the water suddenly runs completely red with blood, signifying the transition of another victim. The shot is visually impressive, and is the closest thing to an iconic image that is found in Byzantium. Bobbitt and Jordan seem to realize this as well, as the shot is repeated several times throughout the film. Nevertheless, it is not overused; it looks really cool.

In the post-Twilight world, it's definitely not a given that a vampire movie is going to be scary. Still, as one of the mythical beasts of Hollywood, there should be an aspect of dread and terror to a vampire film. There is not much to be scared of in Byzantium. The vampires are not threatening enough to be frightening, even when they're in full attack mode. The most that Byzantium is able to muster is a little bit of a creep-out. For example, at one point when Eleanor is discussing her story with a teacher who does not believe her, she gets very serious and tells her that, in thirty years, when the teacher is old and decrepit in her wheelchair, Eleanor will walk by her gate and the teacher will see that she has not aged a day…then maybe she'll believe her. Eleanor's change in demeanor shocks the teacher, therefore disturbing the audience as well. It's a chilling moment in a film that could use many more chilling moments.
Cast and Crew
Director(s): Neil Jordan
Producer(s):
Screenwriter(s): Moira Buffini
Story: 
Cast: Saoirse Ronan (Eleanor)Gemma Arterton (Clara) Warren Brown (Gareth)Thure Lindhardt (Werner)Jonny Lee Miller (Ruthven)
Editor(s): Tony Lawson
Cinematographer: Sean Bobbitt
Production Designer(s):
Costume Designer: 
Casting Director(s): 
Music Score: Javier Navarrete
Music Performed By: 
Country Of Origin: USA