That time of year has returned, where classic cinephiles from around the country pay homage to great classic cinema at the TCM Classic Film Festival. In only its third year the festival has established itself as a must for cinema fanatics, and an event not to be missed. This year's slate of programming is outstanding, and features an array of films for every taste. More films may still be announced, and more special guests are sure to be attending. For now, here is the program for the TCM Classic Film Festival 2012:

That time of year has returned, where classic cinephiles from around the country pay homage to great classic cinema at the TCM Classic Film Festival. In only its third year the festival has established itself as a must for cinema fanatics, and an event not to be missed. This year's slate of programming is outstanding, and features an array of films for every taste. More films may still be announced, and more special guests are sure to be attending. For now, here is the program for the TCM Classic Film Festival 2012:
Essentials
Wings (1927)
85th Anniversary Restoration, introduced by long-time Paramount producer A.C. Lyles.
Charles "Buddy" Rogers, Richard Arlen and Clara Bow star in William A. Wellman's high-flying World War I melodrama, the first movie ever to take home Oscar for Best Picture. Wings set the gold standard for Hollywood when it comes to shooting aerial dogfights. Longtime producer A.C. Lyles, who originally saw Wings in 1927, when he was 10 years old, will provide the introduction.
The Women (1939)
MGM heralded this adaptation of Clare Booth Luce's Broadway hit by touting its all-female cast, a rarity for any film. They even claimed that only female animals appeared on screen and all the books used to dress the many sets were by female authors. The film also focused on key women's issues of the day, at least in Hollywood's eyes. The plot revolves around star Norma Shearer losing her husband to catty social upstart Joan Crawford, then fighting to win him back. Scene-stealing gossip Rosalind Russell reports every breathless detail to all their friends. But it's also about style, with one key confrontation set at a chic, unconsciously funny fashion show filmed in an explosion of Technicolor amidst an otherwise black-and-white film. Fashion even defines the characters, from Shearer's elegant, almost regal gowns to Crawford's glittery, showy wardrobe and Russell's just-over-the-top look–all the work of costume designer Adrian.
Casablanca (1942)
The fog is moodier, Ingrid Bergman is more beautiful (if that's even possible) and Humphrey Bogart's trench coat whiter than ever in this dazzling 70th anniversary restoration of one of the screen's most popular romantic thrillers. Some of Warner Bros.' best writers turned an unproduced play into a timeless tribute to the glories of love and heroism. As added bonuses, the film made Bogie a top romantic star, showed audiences how sexy Bergman could be, brought trench coats back into fashion and revived the popularity of "As Time Goes By," the song both stars ask Sam (Dooley Wilson) to play again. A series of coincidences made this film a box-office winner. The U.S. invaded Northern Africa at about the same time as the picture premiered; it went wide when President Roosevelt, Winston Churchill and Joseph Stalin met in Casablanca. But it was top work from all involved–from director Michael Curtiz to the lowliest grip and bit player–that helped make CASABLANCA an enduring classic.
Grand Illusion (1937)
Woody Allen has hailed this film as the finest ever made. When the Nazis invaded Paris, it was the first French film Joseph Goebbels ordered destroyed. Jean Renoir's simple, moving and very human anti-war picture is simply one of the greatest movies ever made. A war film without any battles and only a single death, it tells the intimate story of a group of French POWs forging relationships while held by the Germans. Though some of the bonds cut through class barriers, the most touching is the friendship between the camp's aristocratic German commander (Erich von Stroheim) and a French nobleman (Pierre Fresnay), two relics of a bygone era. Renoir allowed von Stroheim to write some of his own scenes and even add his character to the second half of the film, partly in appreciation of the German director's influence on his films. Released to international acclaim, the film made Renoir's reputation as a master director. TCM celebrates the 75th anniversary of Grand Illusion with the U.S. premiere of a new 4K restoration by StudioCanal, to be released theatrically in May by Rialto Pictures.
Sabrina (1954)
This delightful Cinderella story made fashion history when Billy Wilder decided to hire the young Hubert de Givenchy to design Audrey Hepburn's costumes for the later scenes in the film (once she becomes a "woman of the world"). The couturier gave Hepburn the pick of his next line, then worked over some of the designs to make them more suitable for her slight figure. The neckline he created so Hepburn could wear an off-the-shoulder dress without exposing the hollows behind her collarbone became the rage as the "décolleté Sabrina"–as did de Givenchy himself once the film came out. His taste for geometric designs and creative use of black made him the perfect choice for Hepburn's frame, and she would rely on his fashion sense throughout her life. Paramount's costume chief, Edith Head, was none too pleased to be confined to just designing only Hepburn's earliest costumes in the film, when she's nothing but a chauffeur's daughter in love with playboy William Holden and terrified of his stern older brother (Humphrey Bogart). But that didn't stop Head from collecting the Oscar for Best Costumes, given in part for Givenchy's contributions.
Black Narcissus (1947)
Hosted by editor Thelma Schoonmaker.
Michael Powell and Emeric Pressburger's powerful drama stars Deborah Kerr as a nun working to start a mission in an isolated Himalayan valley. Jack Cardiff's stunning color cinematography takes center stage. Sabu, David Farrar, Flora Robson and Jean Simmons co- star in the film, which will be introduced by Powell's widow, Oscar-winning editor Thelma Schoonmaker.
A Night to Remember (1958)
U.S. Premiere of Restoration, commemorating the 100th Anniversary of the sinking of the RMS Titanic. Decades before James Cameron swept moviegoers away with star-crossed lovers aboard a doomed ship, British director Roy Ward Baker presented a starker, less romanticized version of the sinking of the the "unsinkable" Titanic. This Golden Globe-winning docudrama, based on Walter Lord's definitive book, stars Kenneth More as the ship's dutiful second officer. The cast also includes David McCallum, Jill Dixon, Laurence Naismith, Frank Lawton and Honor Blackman.
Rio Bravo (1959)
World Premiere Restoration, introduced by Angie Dickinson.
John Wayne, Dean Martin, Ricky Nelson, Walter Brennan and Angie Dickinson headline this top-notch western from director Howard Hawks. The story centers on a sheriff who enlists the help of various locals in order to keep a killer from escaping town. Wayne was reportedly nervous about his love scenes with Dickinson, who was half his age at the time.
Elmer Gantry (1960)
Hosted by Shirley Jones.
Sinclair Lewis' incisive novel about a con man wooing a female evangelist comes to life in this powerful drama. Burt Lancaster took home an Oscar as the charismatic title character, with Jean Simmons as Sister Sharon Falconer. Shirley Jones earned Oscar gold playing against type as Elmer's former flame.
The Longest Day (1962)
World Premiere of 50th Anniversary Restoration, hosted by Robert Wagner.
An all-star cast comes together to tell the story of the Allied forces' invasion of Normandy on D- Day in one of the biggest war films of all time. John Wayne, Robert Mitchum, Henry Fonda, Robert Wagner and many more star under the direction of Ken Annakin, Andrew Marton and Bernhard Wicki.
The Pink Panther (1964)
Introduced by Robert Wagner.
Blake Edwards' hilarious caper comedy stars David Niven as a suave jewel thief, Robert Wagner as his handsome son, Capucine as a rebellious princess and Peter Sellers in his first performance as the bumbling Inspector Clouseau. Among the many delights are Henry Mancini's memorable music and Friz Freleng's opening sequence.
The Thomas Crown Affair (1968)
Introduced by Director Norman Jewison.
Director Norman Jewison took the art of split-screen imagery to a new level with this sexy thriller about a millionaire thief and the female insurance investigator determined to bring him down after a bank robbery. Steve McQueen and Faye Dunaway provide the on-screen sparks.
Singin' In The Rain (1952)
In attendance: Debbie Reynolds.
In commemoration of the late Gene Kelly's 100th birthday, the TCM Film Festival presents the world premiere of the 60th anniversary restoration of one of his most beloved movies. Widely considered the best of the three films he co-directed with fellow choreographer Stanley Donen, Singin' In The Rain combines his athletic dancing with Donald O'Connor and Jean Hagen's comic antics, Cyd Charisse's sultry allure and the starring debut of Debbie Reynolds, soon to become one of MGM's top female stars. The witty script by Betty Comden and Adolph Green pokes loving fun at moviemaking during the transition to sound, with the story of a silent screen love team (Kelly and Hagen) struggling to find their voice in the new medium. Kelly worked Reynolds until her feet bled, while O'Connor's madcap "Make 'Em Laugh" number landed him in the hospital from exhaustion. But for decades of fans, the movie is a delight from beginning to end.
Vertigo (1958)
In attendance: Kim Novak.
Although it only received mixed reviews on its initial release and turned a smaller profit than most Alfred Hitchcock pictures of its time, Vertigo is now looked upon as the director's masterpiece–a deeply personal exploration of the themes of guilt and sexual obsession. As some critics have pointed out, the entire plot is a MacGuffin. Hitchcock is so unconcerned with the murder of Kim Novak's Madeleine, a suicidal beauty tailed and loved by detective James Stewart, that he reveals whodunit two thirds of the way through the picture. Instead, he focuses on Stewart's growing determination to remake lookalike shop girl Judy (also Novak) in Madeleine's image. Over the years, Vertigo has become a part of cinematic culture, imitated by filmmakers as disparate as Brian De Palma and Mel Brooks. It has inspired special tours of its locations in and around San Francisco (one of which was even renamed the Hotel Vertigo). Likewise, Saul Bass' stripped down and kinetic title sequence set the bar for design into the 1960s and beyond, and Bernard Herrmann's romantic score has been quoted extensively by other composers, most recently on "American Horror Story" and in the Oscar-winning The Artist (2011).
Universal's Legacy of Horror
Dracula (1931)
Reprising the role that made him famous on Broadway, Bela Lugosi plays Bram Stoker's hypnotic vampire. Directed by Tod Browning, this horror classic also features Dwight Frye, Helen Chandler and Edward Van Sloan.
Frankenstein (1931)
James Whale's wonderfully atmospheric version of Mary Shelley's horror classic continues to reign as one of the greatest horror films ever made. Boris Karloff stars as the monster, with Colin Clive as Dr. Frankenstein and truly memorable makeup by Jack Pierce.
The Black Cat (1934)
Introduced by Bela Lugosi Jr. and Sara Karloff.
Boris Karloff plays a devil-worshipping architect with sinister plans, while Bela Lugosi plays the doctor determined to thwart him in this visually sumptuous production. One of the most unique horror films to come out of Universal, The Black Cat features remarkable art deco sets designed by Charles D. Hall.


Son of Frankenstein (1939)
Basil Rathbone stars as the title character in this third film in Universal's Frankenstein franchise. Boris Karloff plays as The Monster for the last time, with Bela Lugosi particularly memorable as the deformed Ygor. The film features a tongue-in-cheek script by Wyllis Cooper, visually striking sets by Jack Otterson and spooky cinematography by George Robinson.
The Wolf Man (1941)
Introduced by Academy Award-winning makeup designer Rick Baker.
Universal launched a new and highly successful horror franchise with this timeless tale of a man who becomes a wolf when the full moon burns bright. Lon Chaney Jr. turns in a sensitive performance in the lead role, with wonderful support from Claude Rains, Evelyn Ankers, Ralph Bellamy, Bela Lugosi and Maria Ouspenskaya.
Special Presentations
A Fine Mess: Laurel & Hardy
Introduced by Dick Van Dyke.
Comedians Stan Laurel and Oliver Hardy are put through the ringer in such hilarious shorts as (titles). Dick Van Dyke, whose comic legacy includes three consecutive Emmys for the sitcom The Dick Van Dyke Show, as well as a Lifetime Achievement Award from the American Comedy Awards, will introduce the shorts and discuss the influence Laurel & Hardy have had on his life and career.
"A Trip to the Moon" and Other Trips through Time, Color and Space
Presented by Serge Bromberg.
Serge Bromberg's Lobster Films has been behind many significant restorations and rediscoveries, including the restored A Trip to the Moon (1902), presented with much fanfare at the 2011 edition of the Cannes Film Festival. TCM Classic Film Festival passholders will have the opportunity to enjoy that magical film – which played a key role in Martin Scorsese's Hugo – along with several other rare shorts from the early years of cinema. The lineup includes A Trip Down Market Street (1906), Metamorphosis du Papillon (1904), The Acrobatic Fly (1908), the Ub Iwerks cartoon Baloonland (1935) and Georges Méliès' decidedly adult Apres le Bal (1897).
Retour de Flamme: Rare and Restored Films in 3-D
Presented by Serge Bromberg.
Film historian and archivist Serge Bromberg will take the audience on an amazing trip through the history of 3D filmmaking. This "eye-popping" collection includes an early experiment in 3D from the year 1900, George Sydney's 3D short Murder in 3D (1931) and the Chip 'n Dale cartoon Working for Peanuts (1953), as well as two recent Road Runner shorts created in 3D.
Baby Peggy: The Elephant in the Room
In attendance: "Baby Peggy" Diana Serra Cary and Vera Iwerebor.
Hollywood discovered Peggy-Jean Montgomery when she was 19 months old and made her a star by the age of two. By the time she was six, she had made more than 150 popular shorts. At 11, she was a has-been, and soon, like rival silent film star Jackie Coogan, she was broke, her money squandered by her parents. Over the course of the next six decades she reinvented herself as Diana Serra Cary, a respected film historian and advocate for laws protecting child performers. With narration co-written by Cary, Vera Iwerebor's one-hour documentary combines rare clips from Baby Peggy's films–most of which were lost when her first studio, Century, burned in 1926–with a personal glimpse of a woman who lost her childhood to the movies. Although Cary was once rejected by Hollywood, where she was blacklisted after her father feuded with producer Sol Lesser, her remaining films, including the first movie version of Captain January (1924), have been rediscovered, bringing her a new generation of fans.
Girl Shy (1924)
Although best known today for his daredevil comic stunts, silent-screen comedian Harold Lloyd was also famous in his day for his focus on character in his films. In fact, he dubbed this charming comedy–his first as an independent producer after leaving the Hal Roach Studios–a "character story." His portrait of a small-town boy dreaming of romance is filled with inspired touches, such as the way he dances down the street after he fails to summon up the courage to crash a local dance. Girl Shy breaks into four movements: the introduction of his character, his stab at fame by writing a book about how to handle women (leading to fantasy scenes poking fun at such popular genres as the vamp and sheik films), his meeting with heiress Jobyna Ralston and finally his daredevil attempt to stop her wedding. For the grand finale, he risks his life by motorcycle, car and even atop a trolley, all in the name of love. TCM presents this comic gem with an original score composed and conducted by Robert Israel.
How The West Was Won (1962)
Sponsored by ArcLight Cinemas and presented at ArcLight's Cinerama Dome.
It took three directors, 12,000 actors and extras, three synchronized projectors and 165 minutes of running time to bring MGM's last great epic to the screen. One of only two narrative feature films shot in the three-strip Cinerama process (and the last, premiering later in 1962 than The Wonderful World of the Brothers Grimm), How The West Was Won has often been derided as a film more about landscapes than people. Even director John Ford, who filmed the Civil War sequence, complained about how long it took to dress the wider sets required for the process. But recent restorations have helped synch the three film strips originally shot to capture the film's more human dimension, its focus on a single family caught in the maelstrom of history-making events over the course of 60 years.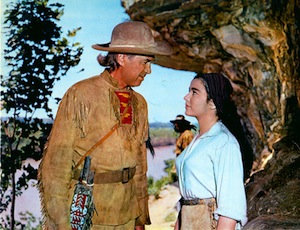 Debbie Reynolds, who transitions from innocent farm girl to dance-hall star to dowager, is the only member of the Prescott clan to survive the entire journey. Along the way she and her relations have memorable encounters with characters played by the likes of John Wayne, Henry Fonda, James Stewart, and such up-and-comers as Lee Van Cleef and Harry Dean Stanton. The cast even includes a survivor of Little Big Horn.
The Thief of Bagdad (1924)
This screening will be accompanied by the Mont Alto Motion Picture Orchestra.
This elaborate fantasy proved just how far a movie could go to create a world of its own. With its flying carpet, magic rope and giant monsters, it was one of the most spectacular features ever made. Despite its exotic setting, it was really an all-American adventure, planned by star and producer Douglas Fairbanks to exploit his athleticism and gung-ho, never-say-die enthusiasm. As the dashing thief who wins a princess' heart by saving her city, Fairbanks cemented his transition from comedian to swashbuckler, which had started two years earlier in Douglas Fairbanks as Robin Hood. His painstaking attention to every detail of the production showed just how lavish a film could be. William Cameron Menzies made his name designing the imaginative sets, while future director Mitchell Leisen costumed the large cast and director Raoul Walsh created the flying carpet effect (inspired when he saw a construction worker hoisted into the air atop a pile of girders). The film cost an estimated $2 million, more than double the cost of any previous picture, and every dollar spent showed on the screen.
A Salute to Stanley Donen
The TCM Classic Film Festival pays tribute to legendary filmmaker Stanley Donen with three of his films starring one of his favorite actresses: Audrey Hepburn. Donen, who received an honorary Oscar in 1998 for his body of work, will be on-hand to take part in the celebration. His career will also be represented during the festival with the world premiere of the 60th anniversary restoration of Singin' in the Rain (1952), which he co-directed with Gene Kelly.
Two for the Road (1967)
World Premiere of 45th Anniversary Restoration.
Audrey Hepburn and Albert Finney star as a quarrelsome couple reminisce about their relationship during a drive in southern France in Stanley Donen's insightful drama. Henry Mancini wrote the score.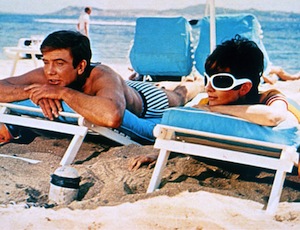 The 4K digital restoration of Two for the Road was completed by 20th Century Fox in collaboration with The Film Foundation.
Charade (1963)
The TCM Classic Film Festival pays tribute to director and choreographer Stanley Donen with a presentation of this sophisticated mystery-comedy starring Cary Grant and Audrey Hepburn. Grant plays a man who helps widow Hepburn track down a fortune hidden by her late husband. Walter Matthau, James Coburn and George Kennedy co-star, with a terrific score by Henry Mancini.
Funny Face (1957)
Fred Astaire is a fashion photographer who turns Audrey Hepburn into a chic model in this highly stylized musical featuring memorable Gershwin songs. Kay Thompson co-stars, with impeccable color cinematography by Ray June and John P. Fulton.
Style in the Movies: The Legendary Costumes of Travis Banton
One of the most important costume designers of classic Hollywood, Travis Banton was the man who taught Edith Head and dressed the likes of Mae West, Claudette Colbert, Carole Lombard and a host of other glamorous Paramount stars. The festival will feature six films showcasing Banton's work. They will be introduced by Oscar-nominated costume designer Deborah Nadoolman Landis, who will be joined by Rose McGowan for Letter from an Unknown Woman (1948).
Trouble In Paradise (1932)
Introduced by Deborah Nadoolman Landis Ernst.
Lubitch's sparkling comedy stars Herbert Marshall and Miriam Hopkins as a pair of crooks out to swindle a rich socialite, played by Kay Francis. Beautiful art deco designs complement Travis Banton's lush gowns.
I'm No Angel (1933)
Introduced by Deborah Nadoolman Landis.
In the most successful film of her career, Mae West shines as a sideshow performer who falls for playboy Cary Grant. Costume designer Travis Banton provides West with the perfect wardrobe to capitalize on her sex symbol status.
The Scarlet Empress (1934)
Introduced by Deborah Nadoolman Landis.
Frequent collaborators Marlene Dietrich and director Josef von Sternberg bring the story of Russia's Catherine the Great to the screen in ornate style. John Lodge and Sam Jaffe co-star. Bert Glennon's glowing cinematography, Hans Dreier's expressionistic art direction and Travis Banton's inventive costumes make this one of the most visually captivating films of the era.
Nothing Sacred (1937)
Recent restoration introduced by Deborah Nadoolman Landis.
Carole Lombard and Fredric March star in this terrific screwball comedy about a hotshot reporter who tries to exploit the "imminent" death of a Vermont girl. William Wellman directed from Ben Hecht's hilariously cynical script.
Cover Girl (1944)
Introduced by Deborah Nadoolman Landis.
Rita Hayworth shines in this musical about a chorus girl who chance at stardom comes when she is chosen to be a highly paid cover girl. Jerome Kern and Ira Gershwin's score includes the classic "Long Ago (and Far Away)." Travis Banton's gowns for the film range from turn-of-the-century to modern.
Letter from an Unknown Woman (1948)
Introduced by Rose McGowan and Deborah Nadoolman Landis.
Joan Fontaine plays a woman obsessed with a pianist played by Louis Jourdan in this rich romantic drama from Max Ophüls. Howard Koch adapted the screenplay from a novella by Stefan Zweig.
Discoveries
Call Her Savage (1932)
Ads heralded Clara Bow's return to the screen after a one-year absence as "The throbbing adventures of a woman who unleashed her heart." This pre-Code picture took the former jazz baby into the confessional genre with a tale of hasty marriage, sexual assault, adultery and prostitution. Also notable today is Bow's visit to a Greenwich Village gay bar, the first such depiction in American movie history. One of film's first feminist icons, Bow had blazed a trail on the silent screen as an independent woman, as sexually carefree and aggressive as any of her male beaux. Talking films inhibited her a bit, but as critics noted about this, her next-to-last film, she still had a winning personality and was beginning to adjust to the new medium's demands for comparative subtlety.
Despite her strong performance, the picture was heavily censored and failed to revive her waning career. Long unavailable, this new Museum of Modern Art restoration of Call Her Savage gives modern audiences a fascinating glimpse of pre-Code moviemaking and Bow's star presence.

Deco Design
The TCM Classic Film Festival will feature several films bathed in the art deco style that was popularized throughout the world and especially onscreen in the 1920s and 1930s.
Our Dancing Daughters (1928)
This silent romance made Joan Crawford one of the first stars to personify an art deco look. Her boyish, athletic body was a perfect match for the angular modernistic sets while her flair for wearing clothes made her late '20s flapper dresses seem like royal robes, as is clear in this dazzling new print. The story was perfect for her, too. With her large, expressive eyes, she embodies the party girl with a heart of gold, turning to the wild life to compensate for her distant parents and her loss of young millionaire Johnny Mack Brown to hard-drinking rival Anita Page. When the film brought in an amazing (for the time) $40,000 at the box office during its first weekend, MGM gave Crawford the star push. They reteamed her with Page for two more films, Our Modern Maidens (1929) and Our Blushing Brides (1930), but by that time it was clear that Crawford was the real draw. As her co-stars faded from the scene, Crawford would go on to bigger and better things, defining style on screen for four decades.
Swing Time (1936)
Few films showcased the sleek, symmetrical lines and shiny materials of art deco as effectively as the Fred Astaire-Ginger Rogers musicals designed by RKO's top art director, Van Nest Polglase. With the team's long, slender frames, they were almost art deco figures themselves. For their sixth film together, Polglase set them dancing through a posh nightclub with a towering curved staircase and one of the world's largest, shiniest dance studios–all to the music of Jerome Kern. Fred's "Bojangles of Harlem" routine teamed him with three elongated shadows of himself that likewise almost seemed art deco versions of the star, while the shampoo on Ginger's head as he sings the Oscar®-winning "The Way You Look Tonight" seems like a stylized helmet (a popular art deco motif). This time out, he's a dancer who comes to New York to raise money so he can marry the girl back home. Ginger joins him in a dance act, and the two fall in love. In the midst of the Great Depression, films like this were a stylish prescription for high spirits.
The Paramount Renaissance
The TCM Classic Film Festival will mark the 100th Anniversary of Paramount Pictures with screenings of five films from the studio's remarkable years under the leadership of Robert Evans. Beginning with Love Story (1970), one of several movies that saved Paramount from bankruptcy, Evans churned out one critically acclaimed hit after another, quickly leading Paramount to become the most successful studio in Hollywood. Robert Evans will participate in this retrospective look back at The Paramount Renaissance.
Love Story (1970)
Ryan O'Neal and Ali MacGraw star in this simple yet effective tear-jerker based on the best- selling novel by Erich Segal. Ray Milland also stars under the direction of Arthur Hiller, with a memorable, Oscarr-winning score by Francis Lai.
The Godfather Part II (1974)
Francis Ford Coppola defied the odds by making a sequel that remains widely considered to be superior to the original. Al Pacino, Robert Duvall, Diane Keaton and Robert DeNiro star in the six-time Oscar-winning saga.
Chinatown (1974)

Roman Polanski brought film noir into the 1970s with this mystery about murder, adultery and water rights. Jack Nicholson (who later directed the sequel, The Two Jakes), Faye Dunaway and John Huston bring Robert Towne's tough-talking script to life, while Jerry Goldsmith provides a wonderfully evocative score.
Marathon Man (1976)
John Schlesinger's gripping thriller tells the story of a graduate student unwittingly caught in the middle of a plot by a Nazi war criminal. Dustin Hoffman, Laurence Olivier and Roy Scheider star. William Goldman adapted the script from his own novel.
Black Sunday (1977)
John Frankenheimer directed this taut thriller about a terrorist out to blow up the Super Bowl and the Israeli agent determined to stop him. Robert Shaw, Bruce Dern, Marthe Keller and Fritz Weaver star.
Style In The Movies – The Noir Style
Presented by Eddie Muller, founder of the Film Noir Foundation, this collection explores the unique style of film noir, known for its often-shadowy black-and-white photography and stylistic set design.
Gun Crazy (1950)
Long before Bonnie and Clyde rattled moviegoers came this ruthless tale of a gun-toting husband-and-wife team. Peggy Cummins and John Dall star, with a script by blacklisted writer Dalton Trumbo (credited to Millard Kaufman).
Cry Danger (1951)
Restoration by the UCLA Film & Television Archive, in cooperation with Paramount Pictures and Warner Bros., and funded by the Film Noir Foundation.
Shot in only 22 days by former child star Robert Parrish, this gripping film noir stars Dick Powell and Rhonda Fleming in the story of a man trying to clear his name after being sentenced for a crime he didn't commit.
**More information on the TCM Classic Film Festival may be found on the website, here, including how to purchase a festival pass and tickets.**
-Film and Festival related content provided by TCM Classic Film Festival, copyright 2012.; Content subject to change without notice.-
Kathryn Schroeder, Promotional Materials, 2012, News, Coming Soon, Events, Classic Film, Film Festival