Synopsis: In a village in northern Turkey, Lale and her four sisters are walking home from school, playing innocently with some boys. The immorality of their play sets off a scandal that has unexpected consequences. The family home is progressively transformed into a prison; instruction in homemaking replaces school and marriages start being arranged. The five sisters who share a common passion for freedom, find ways of getting around the constraints imposed on them.
Release Date: January 15, 2016     MPAA Rating: PG-13
Genre(s): Drama,
Film Review

Mustang is about a group of five orphaned sisters who live with their grandmother and their uncles. After school one afternoon, the girls frolic on the beach and play in the ocean with some boys. Their grandmother hears about their exploits, and after giving them a beating and taking the eldest two to a doctor to have their virginities checked, she puts the girls on lockdown. The house is turned into a "wife factory," with Grandma teaching the girls how to cook and sew in preparation for marriage. One by one, suitors are found for the girls, but not without a struggle; the girls let it be known that they are not happy about being matched up with boys that they do not know or love. The sisters rebel against their grandmother, but how many will escape their arranged marriages, and what will be the cost?
Mustang is the feature length debut from director Deniz Gamze Ergüven, who also wrote the screenplay along with the more experienced Alice Winocour (who has written and directed, among other films, Augustine and Disorder). Its starts pleasantly enough as a coming-of-age movie about five sisters who are forced to depend on each other after their parents' untimely death. The first act of the film concentrates on the strong bond between the girls and how much fun they have together. However, the honeymoon ends about halfway through the film when the girls' path takes a sharp turn and winds up somewhere very different. Beneath the schoolgirl giggling, it's a dark movie, even shocking at times. But not dark and shocking enough to be interesting.
Despite all of the teen angst and child-rearing intrigue, Mustang is a pretty bland movie. Sure, there are segments that are engrossing, but most of the narrative borders on boring. Even the heartless oppression and senseless imprisonment of the sisters by their overprotective grandmother and uncaring uncles doesn't offer up any real emotional involvement. Mustang has the vibe of being a very personal and passionate project for Deniz Gamze Ergüven, but that passion does not fully translate to the finished film. Mustang isn't a complete waste of time, but it's not exactly an enjoyable way to spend a couple of hours, either.

In assembling the cast for Mustang, Deniz Gamze Ergüven went to great lengths to cast just the right five girls to play the sisters, and that diligence pays off in droves. With the exception of Elit Iscan, who plays middle sister Ece, the cast is made up of unknowns with very little acting experience, but theatrical chops were not as important to Ergüven as the organic relationship between the sisters and how that relationship plays out onscreen. The youngest girls, Lale and Nur, are played by a pair of little ladies named Günes Sensoy and Doga Zeynep Doguslu, respectively, and the oldest two, Selma and Sonay, are portrayed by a couple of young women by the names of Tugba Sunguroglu and Ilayda Akdogan. To find her five principals, Ergüven saw and auditioned hundreds of actresses throughout both France and Turkey. Once the choices were narrowed down, Ergüven tried out different combinations of actresses until she found the right five that clicked. And boy do they click; the five girls onscreen look as if they really are best friends and sisters, with much more than just a familial resemblance to tell the viewer that these girls are close. The chemistry between the five sisters is fun, even when the movie is not; the naturalistic performances of the actresses are the glue that holds Mustang together.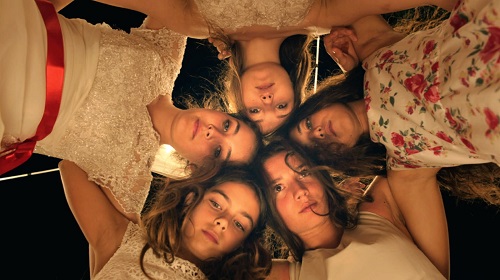 Cast and Crew
Director(s): Deniz Gamze Ergüven
Producer(s): Charles Gillibert
Screenwriter(s): Deniz Gamze ErgüvenAlice Winocour
Story: 
Cast: Günes Sensoy (Lale)Doga Zeynep Doguslu (Nur)Elit Iscan (Ece) Tugba Sunguroglu (Selma)Ilayda Akdogan (Sonay)Nihal G. Koldas (The Grandmother)Ayberk Pekcan (Erol)Bahar Kerimoglu (Dilek)Burak Yigit (Yasin)Erol Afsin (Osman)Suzanne Marrot (Aunt Hanife)Aynur Komecoglu (Anut Emine)
Editor(s): Mathilde Van de Moortel
Cinematographer: David ChizalletErsin Gok
Production Designer(s):
Costume Designer: Selin Sozen
Casting Director(s): Kristin DiehleHarika Uygur
Music Score: Warren Ellis
Music Performed By: 
Country Of Origin: TurkeyFrance