In 1984, the movie world was up in arms about Silent Night, Deadly Night and the fact that its central figure was a serial killer who dressed as Santa Claus. Although killer Santas were nothing new, the controversy surrounding Silent Night, Deadly Night took publicity away from another 1984 Christmas slasher film, one in which the men in Santa suits were the victims, called Don't Open Till Christmas.
Don't Open Till Christmas opens with a man who, of course, is dressed as Santa Claus getting into a car with his girlfriend to make out. The couple's ecstasy is short-lived, however, when they are interrupted by a man in a plastic mask who circles the car, first stalking them and finally stabbing them to death. The killer does not stop there, as he goes right into a Christmas party where he spears another Santa through the neck.
A Scotland Yard detective named Inspector Ian Harris (Edmund Purdom from Pieces) is assigned to the case, and interviews the last victim's daughter, Kate Briosky (Krull's Belinda Mayne) and her boyfriend, Cliff Boyd (Boarding School's Gerry Sundquist) in an attempt to find a lead. The Santa killings continue, and even with Kate and Cliff's help, Inspector Harris still has no clues. Soon, a shifty journalist named Giles (Alan Lake from Yesterday's Hero) goes behind Harris' back, offering to help his sergeant, Detective Powell (The Medusa Touch's Mark Jones), catch the murderer. A power struggle ensues between Harris and Powell, with Powell eventually taking over the case. Sergeant Powell proves just as ineffective as Inspector Harris in finding the killer, leaving the city to wonder who will find the killer and stop the bloodshed.
There's not a whole lot of story to Don't Open Till Christmas. The thinly plotted script was written by Derek Ford (A Study in Terror) and directed by Edmund Purdom (who plays Inspector Harris), and tries to crossover from a slasher to a mystery…except that there's very little mystery and a whole lot of slashing.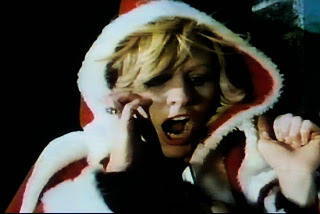 The bumbling attempts to solve to crime are overshadowed by the crimes themselves, and the unlikeable protagonists combined with the dark humor of the dead Santas have the audience rooting for the killer from the beginning.
In a lot of ways, Don't Open Till Christmas is a typical slasher movie. It has a characteristically high body count, and even the female victims are dressed in some way, shape or form as Santa Claus. The Santas are dispatched in new and creative ways as well, as the killer stabs, slices, singes and strangles his way through his victims. The death scenes are not just buckets of blood, either; Purdom throws in little nods to influential horror directors like Dario Argento, John Carpenter and Lucio Fulci into the different scenes, making the film a bit like a scavenger hunt for horror buffs. Don't Open Till Christmas is fun in its non-specificity, almost like it's trying to be generic in its depiction of a slasher in order to pay proper tribute.
The music in Don't Open Till Christmas is one of the more noticeable aspects of the film. The score is credited to Des Dolan (who plays one of the policemen), although every note sounds like it has been heard before. The main tension-building motif is a direct rip-off of John Williams' Jaws theme played on a moog synthesizer, giving the soundtrack a dated, electronic sound similar to Wendy/Walter Carlos' scores for A Clockwork Orange and The Shining. There are also plenty of re-realized Christmas carols tossed around to lend an authentic holiday feel to the picture. While Dolan may have performed and recorded the soundtrack, it's unfair to say that he wrote it. It's all regurgitated, which explains why it fits the film so perfectly.
Next to Halloween, Christmas is probably the holiday to which the most horror movies are devoted. While most yuletide slashers feature Saint Nick as the killer, Don't Open Till Christmas stands apart from the rest by making Santa the helpless victim instead of the villain. For those who are tired of watching Santa become a butcher, it's a good alternative for Christmas Eve viewing.