By
Kathryn Schroeder
March 27, 2012
Director Mary Harron, the female director I love to mention when discussions over whether a woman can direct dark, edgy, and violent pictures--she directed Christian Bale in American Psycho, so yes, women can direct the aforementioned type film and do it well.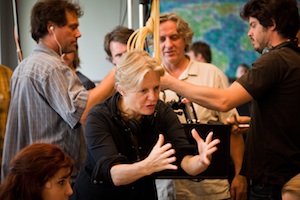 Harron has a new film releasing in theatres on April 20th, The Moth Diaries, starring Sarah Bolger ("The Tudors"), Sarah Gadon (A Dangerous Method, Dream House), Lily Cole (The Imaginarium of Doctor Parnassus), and Scott Speedman (Underworld). The Moth Diaries is adapted from the acclaimed novel by Rachel Klein, and is a tale of jealousy, infatuation, murder, and suspicion.
A new clip and featurette from The Moth Diaries has been released, as well as a trailer. The film is currently available to watch before it hits theatres on demand at SundanceNOW, , Amazon On Demand
, and Itunes.
Read the novel, "The Moth Diaries"
by Rachel Klein.
The Moth Diaries Featurette
The Moth Diaries Film Clip (1)
The Moth Diaries Trailer
Official Synopsis:
Acclaimed director Mary Harron (AMERICAN PSYCHO, THE NOTORIOUS BETTIE PAGE) returns with the chilling story of Rebecca (Sarah Bolger), a young girl who, haunted by her father's suicide, enrolls in an elite boarding school for girls. Before long, Rebecca's friendship with the popular Lucy (Sarah Gadon) is shattered by the arrival of a dark and mysterious new student named Ernessa (Lily Cole).
Lucy falls under Ernessa's spell and becomes emotionally and physically consumed by her glamorous new friend.

Rebecca, whose overtures of concern are rejected by Lucy, finds herself lost and confused. She begins to develop a crush on her handsome English teacher, Mr. Davies (Scott Speedman) and immerses herself in the Gothic vampire novel Carilla for his class. Rebecca starts to suspect that Ernessa is a vampire, but, despite the suspicious deaths that begin to occur, her fears are treated as simple girlish jealousy.

As the bodies of young girls pile up and the line between reality and the supernatural starts to blur, Rebecca decides to take matters into her own hands and get rid of Ernessa. Who can say what is real and what is unreal to the heart consumed by passion and a mind afire with loss? Based on the bestselling novel by Rachel Klein, THE MOTH DIARIES is a harrowing story of the anxieties, lusts and fears of adolescence.