By
Kathryn Schroeder
August 30, 2012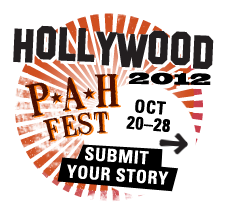 Christopher Coppola may not be as well known as his uncle Francis Ford Coppola but his venture into supporting budding filmmakers, from all walks of life, with "Project Accessible Hollywood (PAH") is worthy of great praise. Taking place in Los Angeles at Los Angeles City College October 20-28, 2012, the sixth annual PAH-FEST:Hollywood will teach hands-on filmmaking over the course of 8 days. The festival is held in conjunction with Los Angeles City College, Sony, Intel, Dell, and the Hollywood Chamber of Commerce.
PAH-FEST is "a groundbreaking digital media festival that celebrates the stories and voices of everyday people. Through a variety of free contests, local participants are invited to create their own short digital films with pro-sumer cameras and video-enabled mobile phones provided by the Festival. Experienced industry "coaches" help festival participants realize their vision within the allotted timeframe."
The categories of the PAH Festival are:
1. Mobiflicks: Teams of citizens create a 6 minute film in days where the submission process is done on-line in advance of the festival. You can submit your story ideas to www.pahfest.org. Deadline is October 11, 2012.
2. Cell Phone Art: a one minute or less video created on a video-enabled cell phone.
3. DigiPortraits: With a digital camera, participants create a two minute portrait of themselves or another person.
4. Circus Vision Challenge: Using a pocket camcorder, children 12 and under gather a list of visual ingredients at a landmark location.
5. 3 Shot Challenge: Teenagers make a film using only three specific shots about their community.
6. Tone Poem: Musicians shoot and edit visual imagery for their original music composed during the festival.
Any concerns over editing equipment need not be felt, PAH-Fest supplies complete editing systems, as well as technical support.
A closing ceremony will be held with a screening of all of the winning films and they will also be posted online for an international audience beginning October 28, 2012. The closing night ceremony is free and open to the public.
More information on PAH-Fest may be found on its website: www.pahfest.org or on their
Facebook page: https://www.facebook.com/PAHNATIONfest.
About Christopher Coppola:

In addition to his work with PAH, Christopher Coppola is a writer, producer and director of a number of feature films and television shows. He has developed and produced content for alternative distribution and interactive platforms and has premiered his "HD: American Portraits" on the Wal-Mart in-store network, which reached over 160 million people. Coppola is also known as the "Biker Chef" who travels the country's blue highways with his trusted comrade "Biker Cat" following a noble quest to celebrate the endless diversity of people, their cultures, and cuisine.

Coppola's educational initiatives include the Christopher Coppola High Definition Research Laboratory located at the San Francisco Art Institute, his Alma Mater. He is also an adjunct film professor in the Broadcast Cinema Arts Department of Madonna University, as well as a frequent lecturer at other schools including San Francisco Art Institute, CSU San Francisco, Chapman University, Columbia College Chicago, Los Angeles City College, University of Nevada Las Vegas, University of New Mexico Grants and Broadview School of Electronic Arts. He's also participated on many professional panels on Digital Filmmaking including HD Expo, NAB, SHOWWEST, American Film Market, DGA Digital Day, Cinequest, New Media Expo and ICE in Canada. Christopher Coppola also does a lot of charity work especially with the Shriners Hospitals for Children. He's been called the "Coppola with a cause."

In 2006 he created Project Accessible Hollywood (PAH), a non-profit organization that brings digital empowerment to communities and individuals worldwide. Designed to reach the "everyday person," PAH seeks to educate people on using simple digital media while encouraging them to express themselves artistically. Through its free, new media festivals, PAH brings technology, education and community engagement, while supporting artistic expression through a digital storytelling competition. To date, Coppola has held thirty-six digital media festivals, called PAH-Fests, across the U.S. and abroad.

A member of the prolific Coppola family, Christopher studied music composition at Redlands University, where he received the prestigious California Arts Council Award for his opera "Plato's Cave," and for his clarinet quintet "Reverie." He then went on to study film at The San Francisco Art Institute where he made several award-winning student films before graduating in 1987.