By
Kathryn Schroeder
June 14, 2012
The character of James Bond has become a worldwide icon, and an influential figure in pop culture. The year 2012 marks the 50th anniversary of the Bond franchise, and two events are happening in Los Angeles to celebrate the man, the character, the movies, of James Bond.
The Los Angeles County Museum of Art (LACMA) has always been one to embrace and celebrate the iconic faces of cinema, and the lesser known artists behind them. From June 9, 2012 – September 9, 2012 the museum will host an exhibit, "...Is James Bond," showcasing the opening credit sequences of all 22 completed Bond films--the 23rd, Skyfall, will be released in 2012 starring Daniel Craig as James Bond.
The opening credit sequence to all of the James Bond films are memorable, some more so than the film that followed. The gun barrel in Dr. No is unforgettable. One man was responsible for the opening titles on 14 of the James Bond films, title designer Maurice Binder (1925-1991). He started the trend with Dr. No to create visually stunning pieces of art via title sequences, and his lasting influence can be seen today in every James Bond film and others as well. ...Is James Bond celebrates his achievements and the lasting memories of all of the Bond films.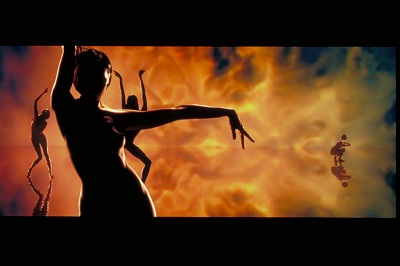 "...Is James Bond" was co-organized by the Los Angeles County Museum of Art and Loyola Marymount University's School of Film and Television. The exhibition takes place in the Art of the Americas Building at LACMA. The opening credit sequences are thematically grouped and displayed on a series of 40" monitors. Audio for each sequence is available via headset, and the full set of sequences are also looped and projected with audio in a large format with sound on one wall of the gallery. LACMA, in partnership with Film Independent, will also screen James Bond double features every Thursday in July and September. A full list of films and times will be posted at lacma.org. [credit: LACMA]
For those who want more than just the title sequences The American Cinematheque's two theatres, The Aero in Santa Monica and The Egyptian in Hollywood, will be featuring every Bond film during the month of June as part of their "007 AT 50: THE COMPLETE JAMES BOND RETROSPECTIVE!" Every film from the series will be shown as part of a double-feature (sometimes a triple) and many feature special guests doing a Q&A afterwards.
More information on the "007 AT 50: THE COMPLETE JAMES BOND RETROSPECTIVE!" can be found here.
Here's to celebrating 50 years of James Bond, and many more to come!