A deadly pathogen is unleashed and unknowingly carried to Dana Overbeck's 30th birthday party, where her estranged father, Rufus, is coming to make amends.
Find Hot New Movies & TV Releases Available This Week from Vudu!
I often see something in independent movies that I like to refer to as the "Film School Aesthetic." It's usually a product of a film's budgetary constraints, and I use the term not so much as a critique as I do an observation, because it can be a good and a bad thing, sometimes both within the same film.
Epidemic
is a fine example of this Film School Aesthetic.
Epidemic
is about a young woman named Dana (Amanda K. Morales from
Hell House LLC II: The Abaddon Hotel
) who is planning a birthday party with the help of her boyfriend, Mike (
Parapsychology 101
's Joe Walz). The party is a big deal for Dana, because aside from it being her birthday, she has decided to invite her estranged alcoholic father, Rufus (Andrew Hunsicker from "Law of Perdition"), to the shindig in an effort to reconnect. Unfortunately, before Rufus arrives, Dana's friend Mandi (
Knock 'em Dead
's Gina Destra) unleashes a highly contagious virus that turns people into ghoulish zombies. When Rufus arrives, the entire party is incapacitated, and he takes it upon himself to save his daughter from the deadly contagion.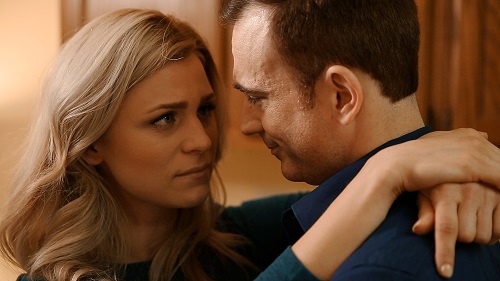 Part of what gives
Epidemic
its Film School Aesthetic is that the movie appears to be the brainchild of just two filmmakers - Stephen Michael Giglio and Adam Ramonachik. The pair shares the writing, producing, and editing credits, with Giglio also directing while Romanchik pulls Director of Photography duty. Post-production jobs are split evenly, too, with Giglio doing the sound mix and Romanchik performing the color correction. This double-auteur system gives
Epidemic
a tight vision, even if it's a flawed one.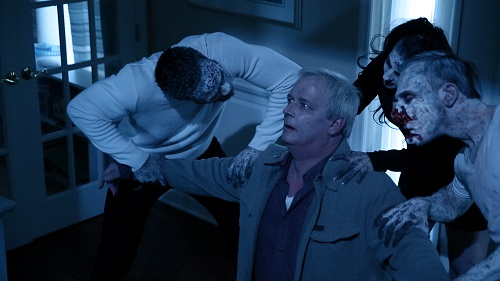 Epidemic
has the same blemishes that many low budget horror films have. With the exception of Andrew Hunsicker as Rufus the father, the acting is inconsistent and spotty at best. The dialogue is overly wordy and reliant on spoonfed exposition. The characters even make brainless decisions, from Mandi's opening of the suspicious vent that releases the titular epidemic to Mike and Dana figuring that a good time to initiate sex is right as people are showing up to their party.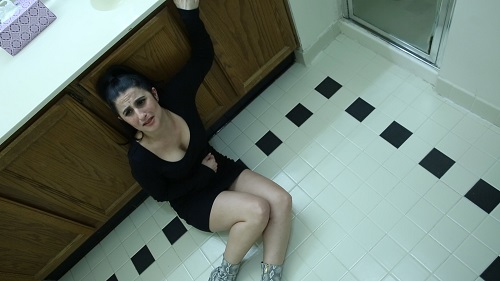 But that's all stuff that, again, most small-scale horror flicks get wrong. What
Epidemic
does well makes up for all of the stereotypical stuff. Although the viral outbreak seems to be a worldwide problem,
Epidemic
focuses its efforts on just a half dozen or so of the affected victims, which makes for a surprisingly contained - and surprisingly effective - movie. Maybe it's by design, or maybe it's due to production limitations, but the microscopic view of the epidemic makes it that much more personal for the viewer. When Rufus takes his daughter's wellbeing into his own hands, the stakes are raised even higher while the lens zooms in closer on the individual aspect of the story. And that keeps
Epidemic
fresh, both for a disease outbreak thriller and for a zombie movie.
The bottom line is that
Epidemic
takes what resources it has and makes the most of them - The Film School Aesthetic. Perhaps the best aspect of the film is its quick 71 minute running time. That's not meant as an insult;
Epidemic
gets in and gets out before it has a chance to be boring. And at the end of the day, that's all horror fans can ask for.
There are a few different types of scares at work in
Epidemic
. The most obvious is the gross out - the spastic vomiting and festering wounds of the infected people. Then, there are the fun zombie ghoul effects that provide a handful of good jump scares. The most subtle, though, is the psychological turmoil that poor Rufus finds himself going through, not only as he struggles with his own demons on his way to his daughter's house, but also as he strives to make up for his past failures by saving her once he discovers that she is infected. For a low-budget indie movie,
Epidemic
is surprisingly layered. Sure, the scares get predictable after a while, but at least the movie has scares, a fact which puts
Epidemic
ahead of many other smaller horror movies.